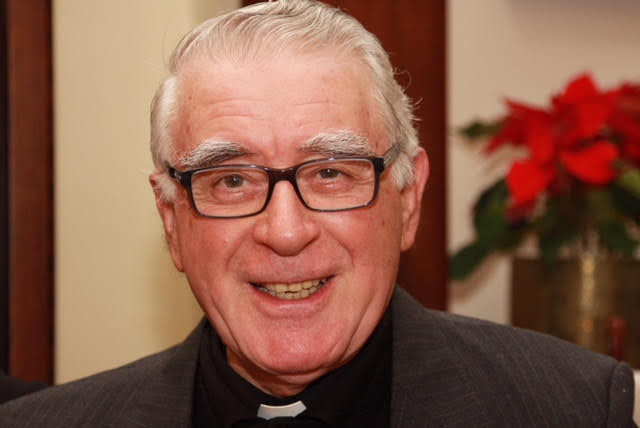 Our beloved Fr Arthur G Vella SJ has gone to meet the risen Lord
His life was dedicated to leading people to God, and he passed away in peace and eager anticipation of his own meeting with the Lord whom he loved so dearly.
On Sunday 20th May the Lord called to eternal life Fr Arthur Gerald Vella, SJ, who died in his 87th year of age and 65th year in the Society.
The Funeral will take place at the Parish Church of the Assumption of Our Lady, Mosta, Malta. The time and day will be announced shortly.
Fr. Arthur was born at Żejtun (Malta) on 27 September, 1930. Arthur joined the Society at Loyola House, Naxxar, Malta, on 15 October, 1952. Towards the end of the Noviciate he was sent to Heythrop College in England for philosophy and there pronounced his First Vows on 16 October, 1954.  In 1956 he was assigned to St Aloysius' College, Birkirkara, for his Regency. Between 1957 and 1961 he studied theology at the Gregorian University in Rome where on 9 July, 1960 , he was ordained to the priesthood by Cardinal Luigi Traglia. In 1961 he did his Tertianship at Cleveland, Ohio, USA. Once again between 1962 and 1964 he was in Rome for a bienium in Ascetical Theology and defended his doctoral thesis on "Christian Maturity and Affective Love in the writing of St Thomas Aquinas".
Upon his return to Malta in 1964 he was appointed Socius to the Provincial and Province Consultor. He made his Solemn Profession on 9 June, 1966, at St Aloysius' College, Birkirkara, and that same day he took over as the 4th Provincial of the Province of Malta.
In April 1971, the Holy See appointed Fr Vella as a member of the Extraordinary Committee under Archbishop Lemieux to carry out the reform of the administration of Church property in Malta.
At the end of his mandate as Provincial, in 1973, Fr Vella was appointed Superior of the new Residence near the University of Malta and also as Novice Master. He started to lecture in Moral and Spiritual Theology at the University of Malta. Then in 1974 Fr General appointed him as Rector of the International College in Rome. However, due to ill-health he was relieved in 1975. In 1974 he participated in GC 32 as the Elector from the Province of Malta. Then in 1978 he was the Procurator from Malta for the Congregation of Procurators.
From 1973 Fr Vella served as a member and later as Director of the Ignatian Spirituality Centre in Malta. For a number of years he was a member of the Ministries Commission and Formation Commission of the Province
Between 1985 and 1989 the Bishop of Gozo diocese appointed as Rector of Sacred Heart Seminary, Victoria.
In 1991 Fr General appointed Fr Arthur as Director of the Ignatian Spirituality Secretariat at the Curia in Roma and remained till 1996. From 1996 to 2002 he was the Superior of our Residence near the University and in 1997, for a year, he was Acting Chaplain at the University.
Fr Arthur was very much sought after as a Spiritual Director by priests, religious and laity. He directed many retreats and recollections for priests, seminarians, prospective seminarians and religious. His expertise in Spiritual Discernment was widely acknowledged. The Archbishops called him to speak about Discernment during the Diocesan Synod, female religious Congregations invited him to facilitate their Chapters.
Most of Fr Arthur's other pastoral ministry was at the Chaplaincy of the University of Malta where with his genial and approachable character he was sought after for spiritual director by professors, lectures, students and other staff. 
Fr Arthur translated the Spiritual Exercises of St Ignatius into Maltese, published twice. His life was dedicated to leading people to God, and he passed away in peace and eager anticipation of his own meeting with the Lord whom he loved so dearly.
Let us remember him with fraternal affection in our prayers.
Related link: http://www.newsbook.com.mt/artikli/2018/5/20/%22eluf-midjuna-hafna-mieghu%22—fr-j-borg-dwar-turu-sj.75363/